July 2 marked the exact middle of 2012...time for some mid-year resolutions? Here are a few of mine. I've already started on all of these, but it always seems to help when you put things in writing, right? (Especially when you're a blogger and you know other people will be reading it too.:)
Blog more often.
I only blogged four times in June. Pretty sad. :( I am hoping that mid-year resolution #2 will help me find more time to blog more frequently. I love writing so much, and I hate that I have so many blog posts in my head that never get written.
Start jogging again three times per week
. I've fallen down to a half-hearted once or twice a week for the last few months. I feel so much better physically when I get outside and work up a good sweat a few times a week.
I found this image and was inspired, especially since one of my goals is to keep jogging. I find that "just do it" is a good mantra for me, because many times, the more I
think
about doing something, the less likely I am to do it!
This is the exact Phil & Ted's jogging stroller we have. I LOVE this thing.
Get up in the morning before my family.
Everything seems to go better when I'm out of my pajamas and at least somewhat pre-prayered for the day by the time the kids are up! I just joined
a book club that my friend Kate is starting
, and I know that the book we are reading will really help me in my get-up-a-little-earlier resolution. We are reading
A Mother's Rule of Life
, which I read last summer and
loved
--but didn't fully implement in my life before, oh, having my second child last September.:) We are starting a Facebook group to connect with each other as we read the book. Anyone can join! Please send me an email if you are interested in reading with us: humblehandmaid_at_gmail_dot_com.
Family prayer
. We've been doing this more consistently for a little while, but as I said, it helps to put things into writing. :) I want to find one moment every day to call my family to prayer. Squirmy, crying babies and busy toddlers and tired mommies and daddies and all. No one ever said
everybody
had to be still and paying attention and focused when praying together as a family. As a family, I want to thank the Lord for our blessings, to invite him daily into our home and our lives, and to ask his mercy to cover us and his Blessed Mother to pray for us.
Isn't this a beautiful image?
Buy, cook and eat more healthfully
. This means drinking more water, eating fewer carbs, less fast food, less sugar, less oil and butter in cooking, more lean meats, and more salads and veggies. It also means cutting back on soft drinks and treats, especially when eating out. For me personally, I am cutting back on sugar. I have a HUGE sweet tooth. I should probably go on one of those sugar fasts. :) I don't buy any junk food for us, but the problem is that I've become very good at "whipping up" things when I want my "sugar fix." For example, when I was pregnant (and, if I'm being honest,
much
more recently than that), I used to make little "frosting shots" of chocolate icing just to satisfy my sweet tooth. I'm way better than I should be at mixing up perfectly lovely concoctions involving anything I happen to have on hand...chocolate chips, cocoa, powdered sugar, butter, milk and vanilla...
oy ve
.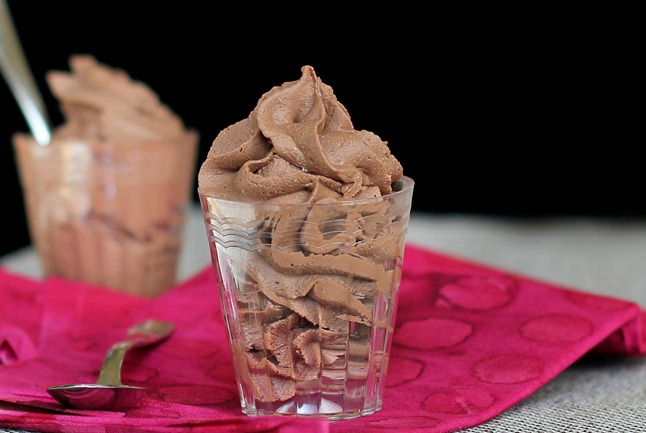 THIS, my friends, is a frosting shot. And it's wonderful.
This recipe
is for Chocolate Mousse Frosting.
I can't believe I'm giving you the link to where I found this picture...when I'm talking about eating more healthfully.
Oy ve.
Again
.
Redesign my blog.
I feel like God has finally given me the green light to start doing
more
with Humble Handmaid, including creating a custom header and button, starting a Facebook page, and also start learning the basics of web coding. Michael and I have a good friend (who designed
CrossCutt's website and logo
, actually:) who has agreed to help me. I am shooting for August to begin working with him, so look for some ch-ch-changes to start rolling out this fall! :)
Read to my kids.
I haven't always been the best at reading to my kids. Gabriel was too squirmy and disinterested for the longest time that I sort of gave up for a while! He likes books now though, and even takes a stack of books in to his room with him during nap time/rest hour. He usually looks at his books until he falls asleep. So, my goal is to read to the kids for
at least
15 minutes per day. :)
Gabriel is very much into Thomas the Tank Engine these days. I need to go to the library and check out more Thomas books--we only have one. We made the mistake of finding a big cache of Thomas episodes on Netflix, and since it's rained a lot lately in Houston we have watched so many now that we are all saying things like, "I'm getting cross!" and "You're the Most Really Useful Mommy!" and "Cinders and ashes!"
Keep my plants alive.
I almost killed my lovely orange bouganvillas when I went on vacation and didn't ask the little girl next door to water them for me while we were gone. I came home from the beach and I was pretty sure they weren't going to make it. But I pruned them all a little bit, cleaned out all of the dead leaves, and have watered them faithfully every day since we got back. And lo and behold--I already have flowers on one of them again, and precious new green leaves sprouting daily all over both of them. This spring, I also planted gardenias, rosemary, ixora, vinca, jasmine and knockout roses...I haven't been able to kill them quite yet, by the grace of God. And probably by the higher water bill we have this summer.:)